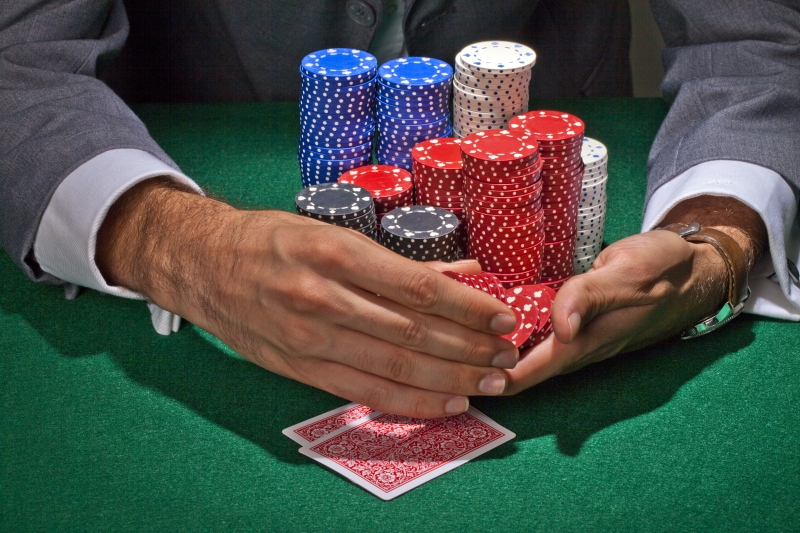 The advent of the internet has brought forth many interesting and new opportunities. From online marketing to online booking of hotels and restaurants, the internet has made almost everything easy. Today, people can make real money from the comfort of their homes thanks to the internet. But there is one thing brought about by internet which has gained a lot of popularity among netizens. This is none other than online poker.
Online poker is one of the many profitable online ventures which have attracted many internet users from all corners of the world. Many folks today visit one of the hundreds poker sites online to play poker. It's an appealing game especially for beginners as it provides a safe environment to try out several different games without feeling the pressure associated with brick and mortar casinos. But the main question is, 'how do you get started playing online poker game'? Read on through this guide to learn how to play poker online and find out some tips and tricks which can make you a pro. This article assumes that you are already familiar with poker rules.
What you need to Get Started
To begin with, you will require a computer and a reliable internet connection. Of course, you will also need to have basic computer skills but this is not a problem as many people today are computer literate. For those who don't have a computer, they can use a mac though not all poker sites support macs. Whilst no-download flash sites and mac friendly softwares are common nowadays, it's good to be sure by checking the tech requirements of your chosen poker room.
Choosing a Poker Room
There are many misguided beginners who rush into choosing any online poker room they find only to realize later that they made the wrong choice. Some poker rooms are fake and full of sharks and others have limited games to choose. If you want to be safe, it's better that you do a little research about your poker room by checking its traffic, design, and offerings. You can only see the offering after loading the flash version of the site. Make sure you review the room well before depositing your money.
Downloading the full poker software package
After you have reviewed and found your best poker room that meets your needs, the next step is to download their poker software. You may find your poker online site offering a flash version, also known as no-download version, where you can just click the "instant play" button and begin playing instantly. However, this is not the best option as the flash version doesn't have the full features of the games like the software.
Downloading the software is very simple and easy. Just click the download button and wait for several minutes to download the full package. After downloading the package, install the software and accept the terms and conditions.
After installing the software, the next step is to create a membership account which is also simple. In this step, you can choose a free account or real money account. For real money account, you are just required to provide some personal info such as you name, age, and address. Also, you will be needed to set up your screen name, password and validate your email address. All these steps will be provided in most poker rooms so it will not be a challenge. After you've created your account, then you are ready deposit your money.
Funding your Account
Before depositing money into your account, you will be required to choose your preferred deposit method. Here, there are several options such as paying with your credit card, or paying via e-wallets or iDeal. After you've chosen your deposit method, you can now deposit your money. If you choose e-wallet for instance, the money will be available in your account instantly. For other methods, it may take few seconds to minutes. Your account balance will be displayed in the cashier screen in your poker room.
Start Playing your Online Poker
After you've deposited your money, you can join a poker table and select the game you want to play. There are many online poker games to play including Omaha Hi-Lo, Texas Hold'em, Seven Card Stud and more. If you happen to encounter any problem, you can contact the customer support to resolve the problem within 24 hours.
Beginners' Tips to Winning Online Poker
There is a popular poker quote which says "poker is a hard way to make an easy living". This is very true. You have to be very smart and employ some techniques and strategies to win a poker game. The following are some tips and tricks that you can use as a beginner to win online poker and learn how to play online poker like a pro.
Begin with low stakes. Just like online betting, online poker is a risky game. You can either win or lose. Losing is inevitable and can be very stressful to a beginner. However, you can avoid this undue stress by playing with low stakes at first so that you can familiarize yourself with the nuances of plying online poker. Then you can gradually increase your stakes as your skills advance.
Begin with a single table. This is a good strategy if you want to become a pro. Whilst some beginners are tempted to jump into multi-tables because of the benefits associated with multi-tabling, it can be very risky and you can end up losing a lot of money. Starting with a single table will help you understand the technical aspects of online poker then, with time, you may start adding one table at a time until you become a pro.
Avoid distractions while playing online poker. One of the major advantages of online poker is that you can play anywhere and anytime unlike physical poker casinos. So you should make use of this opportunity and choose a distraction-free environment where you can play your game peacefully without being disturbed. Don't watch television or chat with your phone while playing online poker. This can make you play a hand poorly or miss vital information which can help you become a better player in future. Also, consider working on a desk instead of a coach where you are prone to distractions. Additionally, creating a positive environment can increase your attention. You can do this by playing your favorite music or painting your room a cheery color among other ideas.
Lastly, consider buying poker softwares. Remember cheap things are expensive. There are several programs for sale that are good learning tools for beginners. For instance, if you buy a program like Poker Tracker or Hold'em Manager, they can track your opponents' hands that they have played and give you the information. Also, some of these tools have the ability to replay cash sessions which can be very beneficial to beginners.
In Summary
Online poker is very easy to learn and play. Just follow the above guide to create your first account to begin playing. At first, play with low stakes until you learn the technical aspects of the game. Also, make sure that you play in a positive distraction-free environment which will increase your attention and lastly consider buying a poker software with helpful features for beginners.